You may know of my love for mushrooms if you have been following along with me for a while. In honor of fall time arriving, I thought today would be the perfect opportunity to share my newest obsession! Four Sigmatic mushroom products! 
I love mushies!! On mah pizzas, on mah sammies, and on mah sgetti!!!! Never thought about adding them to drinks till a few years ago when I discovered the healing powers of mushrooms in a local class. SO I sourced dried mushrooms and ground them up to add to my coffee. This year,I discovered Four Sigmatic and they do all the work for me!!!
 Mushrooms are powerful adaptogens and super foods! The Four Sigmatic   founder hails from Finland, one of the world's healthiest and happiest countries. Growing up on his family farm, consuming nutrientdense berries, mushrooms, and other superfoods was the norm. 
 All mushrooms contain a type of complex carb called beta-glucana that stimulates your immune system and helps suppress tumor growth. 
I mean you dont have to be a wild mushroom forager to of seen some mushies around. Am I right? We've all seen them outside at one point in our life. But little know that the slimey forest flowers are actually powerhouse superfoods!l
I am so so so excited << Like, squealing over here>> about my partnership with Four Sigmatic! They aim to be completely ORGANIC, VEGAN, Whole 30, PALEO, and GLUTEN FREE !!!!!!!!! 
 YOUR LIFE QUALITY CAN BE VASTLY IMPROVED BY SIMPLE DIETARY TWEAKS. 
Four Sigmatic makes getting your daily dose of immune system support easy and tasty!!! 
Today I tried their yummy Cacao Mix blend with Reishi. It comes powdered in a cute 0.2 oz packet. I have a french press at home so I just added the powder to my regular coffee and VOILA =  magic happened.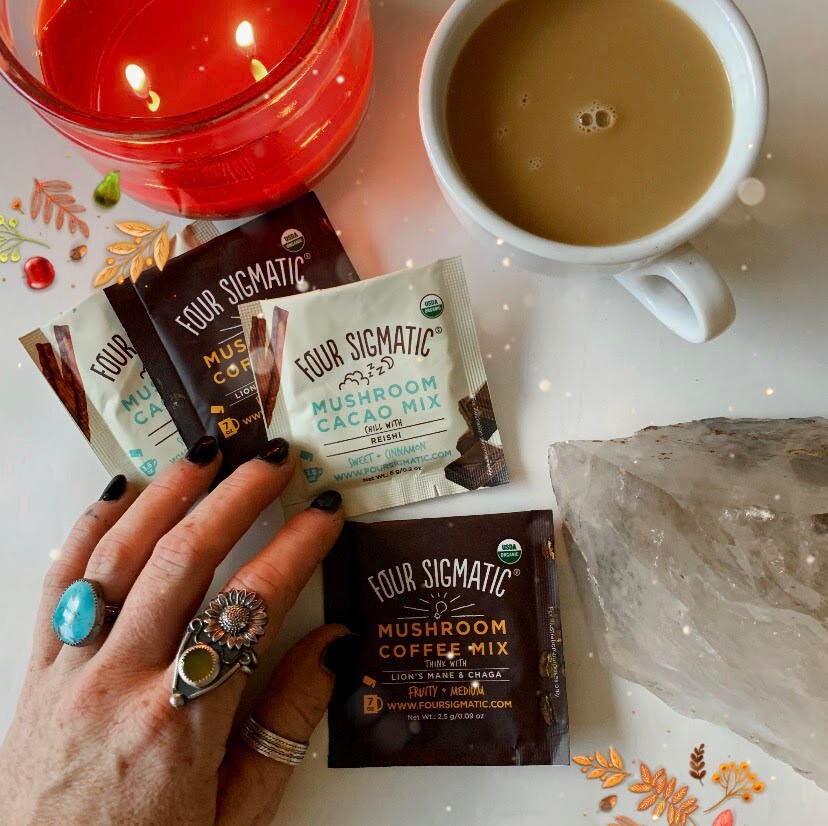 You can add these packets to hot water, plant milk, or coffee :) I'm very happy to report that the packet did not taste like mushrooms at all! Although I would not of minded it, 
Reishi
Used for: stress, sleep, immune health, lungs 
 Mushrooms are rich in the B vitamins: riboflavin, niacin, and pantothenic acid. The combination helps protect heart health. Riboflavin is good for red blood cells. Niacin is good for the digestive system and for maintaining healthy skin  so I say its a win win!!!!
Drink up and use my code JASPERINJUNE to save!!! 
 https://foursigmatic.com/?rfsn=2765334.c2da72&discount=JASPERINJUNE