Tucson has my heart.
This is my favorite city. The city of all cities. 
TBH, it's like a desert Chattanooga. A perfect mix of urban and nature… But desert.
There are at least a jillion beautiful hand-painted murals all around town. No, Seriously! LOL There is even a town mural project. The Tucson Arts Brigade says "The City of Tucson is devoted to producing a lively, safe and fascinating greater midtown." Indeed.
Various local (and some traveling!) artists have covered this town with bright colors and vibrant visuals in order to paint a greater midtown experience.
Here are just a few of my favorites with more to come! If you are ever traveling through Tucson check them out and just type the address below each photo into your GPS!  
Check this out on the eastside of the Cobra Arcade! This actually is a newer addition to the murals of Tucson. Commissioned in just 2020 this mural is by world renowned artist, El Mac. He has murals all over! Including- Germany, California, Italy, and now Arizona.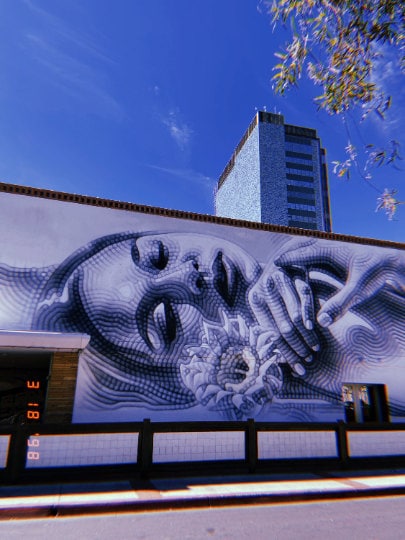 WHERE: Cobra Arcade, 63 E. Congress St. 
The next Mural is so bright and colorful. It is painted by a local female artist named Jessica Gonzolas. She says, "I wanted to evoke a sense of wonder and intrigue about what the world has to offer when we take risks and expand beyond whatever borders we have created for ourselves." Well played, Jessica. Well played. See below!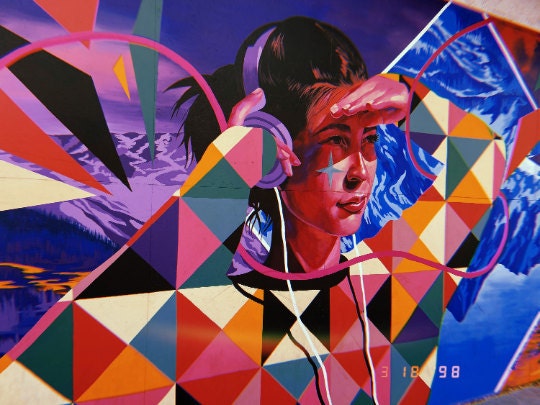 WHERE: The Little One (restaurant), 151 N. Stone Ave. 
La Madre is up next on my Tucson mural tour and it's a beauty! Painted over three different walls and bench area this desert mural comes to life! The mother holds all life in her hands. I'm obsessed with all the details on this one. I was so mesmerized I actually didnt get the best photos to capture all her beauty. SO I guess you will just have to go see for yourself ;)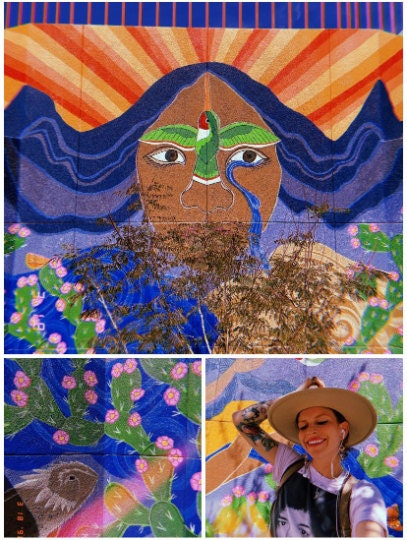 Where: 86 E. Alameda Street, close to the Tucson City Court. 
Well, I had to save the best for last. I mean I just had to. This is a nostalgic one for me as I've been coming to it for a few years now. I was worried it was painted over this year as I couldnt locate it due to road construction. But of quartz ya girl found it and found a way to it, legally. No traffic violations were made. LOL HERE WE GO- Greetings from Tucson mural by travdeling artists  Victor Ving and Lisa Beggs. This project was part of a world wide 'Greetings from" mural project.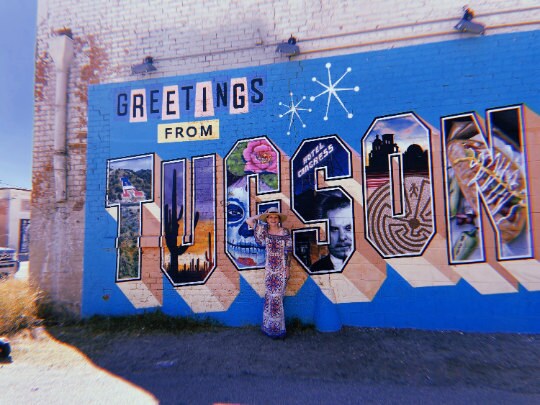 WHERE: 406 N. 6th Ave. painted on Miller's Surplus shop
It is legit the perfect postcard photo. :)
I hope you enjoyed your tour-
XOXO-Danae