I have always loved ornate  dining wares, but wearing them is also my thing.  Spoon rings remind me of my granny and the late 60s. Although, spoon rings are widely considerd to to have originated all the way back in  the 17th century, to me, they are the essence of MOD + Hippie Fashion.
DID  YOU KNOW???? 
FUN It is  believed  that servants back in the day were the ones who actually began making cutlery into rings.  You see, servants were poor and could not afford proper engagement rings when they wanted to marry, so legend has it that they would take silver cutlery from their masters and forge them into jewelry just for their lovers.
          ---- Okay is it me,  or is that romantic AF? 
Below is a view of the American dining room circa 1903 when the Bridal Rose spoon was hallmarked.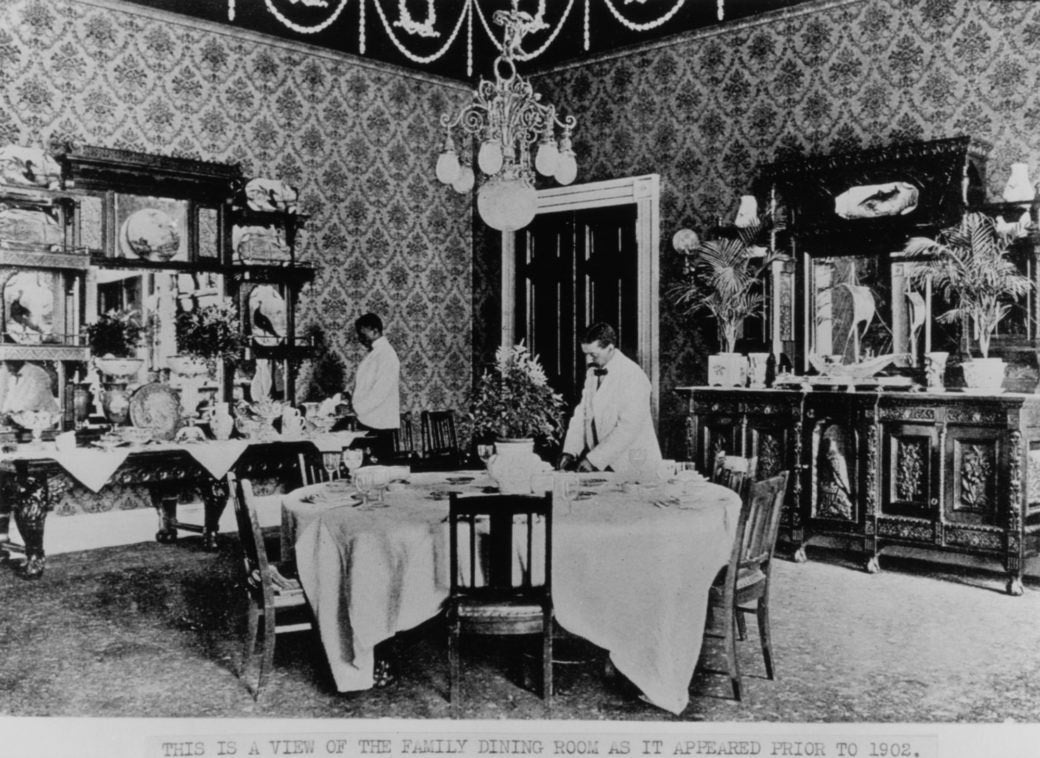 Cutlery refers to tools used for preparing, serving and eating food  
cut·ler·y/ˈkətlərē/noun
knives, forks, and spoons used for eating or serving food.

NORTH AMERICAN
cutting utensils, especially knives for cutting food.
FACT
As a creatrix, I honestly thought I could just get a spoon and hammer it into a ring. Lots of hammering and pain later.... Alas, I was horribly wrong.  You see the way the ring forms all depends on the metal hardness. Most forks, knives, and spoons nowadays are made from stainless steel.  Whereas back in the day, they were sterling silver, or plated sterling. 
<<Let me explain, stainless steel has a hardness of like a billion compared to the softness of other metals, such as sterling silver. Therefore it's more difficult  to form and bend. For me, the trick is to use my handy dandy jewelers torch and anneal the metal first. ;) See below>>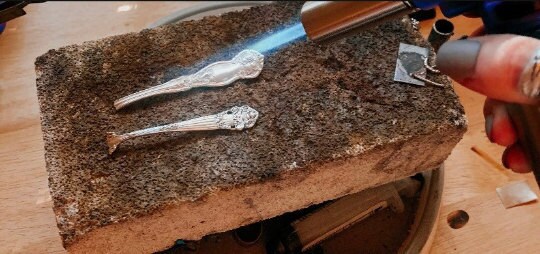 *Please note there are many tricks to making spoon rings and many other steps involved. This is just one  ;)
I prefer working with sterling or sterling plate personally.
🥄🥄🥄🥄🥄🥄🥄🥄🥄🥄🥄🥄🥄🥄🥄🥄🥄🥄🥄🥄🥄🥄🥄🥄🥄🥄🥄
I offer various ornate spoon rings in my shop.
The Bridal Rose is a damn fine romantic pattern from the early 1900s.  It is PURE sterling silver.Romantic rose symbolizes love and passion.
Order one in your size here.

The Orange Blossom pattern is from 1910.  Very intricate floral design. This spoon is sterling silver plated. Throughout history and across many cultures, orange blossom flowers have symbolized purity, innocence, chastity, and fertility. Order one in your size here.

The third spoon offering in my shop is the lovely Remembrance pattern. It is also a silver plated spoon. The floral patterns are minimal, but bravely beautiful.
 Order one in your size here.

As you can see, my favorite vintage spoons to upcycle are floral patterns. Again, so romantic to me. 
Let's talk about sourcing!
Sterling Silver is not cheap thats for certain. i am lucky to have found a sweet little old lady who has collected for a while and she is spooning out one by one her collection for me over time. LOL But, I do enjoy a local sourcing trip! 
Find your local antique and thrift stores. My Chattanooga favorites are Dirty Jane's  and America's Thrift Store. I would say that you have more luck at an actual  antique store. Any silver cutlery that they have will probably be behind the counter as they already know the value. But do try your hand at thrifting! You may be surprised at what you find. America's Thrift has bags of spoons in their home department and I have had the luck of finding a few silver plated spoons in them.
WHAT TO LOOK FOR???
Any metal cutlery that has a large pure silver content will be hallmarked. 
Look for 925 and Sterling Silver for your high end pieces like the Bridal Rose spoon. 
Look for other hallmarks such as AA., or A1. These indicate that there is silver content in the metal.   Laws dating to the 14th century established strict requirements for marking silver.  According to industry standards, AA has one-third as much silver used in plating as does A1 pieces.
Here are some hallmarks on the back of the spoons that I work with and mentioned above.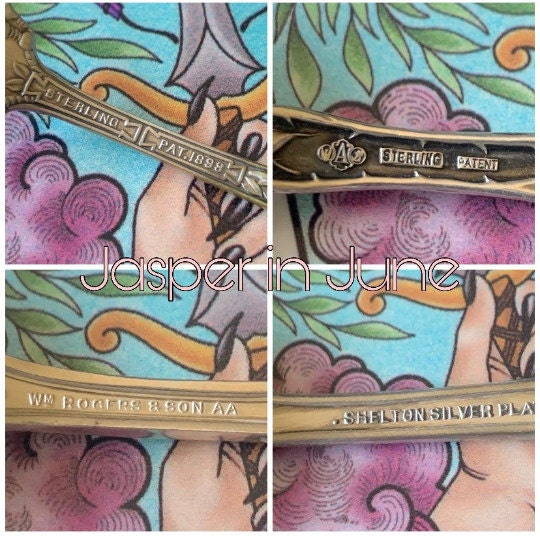 If youre interested in learning more about silver production click here. 
Ahhhh, the symbolic and romantic spoon ring! Lore of forbidden love, American history, and deep symbolism make this adornment so much more than just a ring to me.
I guess my love for these vintage spoons has over time rooted from their deep symbolism and history. Turning a curio into a forever adornment is something I have a profound passion for. 
So... you wanna spoon?
XOXO
Danae